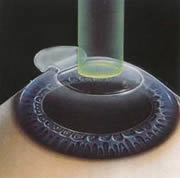 Getting laser eye surgery is something I've been thinking of for a while, and finally decided to take the plunge last December. This post is for anyone in the same position I was in – considering it.
There are a lot of places to get it done, and a few different treatments, I'll focus on the what and the experience.
The two main ones I've come across (and was offered), are:
LASIK

Flap and Zap: a flap is cut into the front of the eye, peeled back and a laser zaps the surface. The flap is lowered, and pretty much the next day your vision clears.

LASEK

Peel & Zap: A solution is dropped into the eye, the very surface layer peeled back (shallower than the cut), the laser zaps, and then the surface lowered back. A contact lens is placed over the eye for 3/4 days, and vision returns over the next 7-10 days.
This has to be the shortest, least medical summary of these two procedures, so I strongly recommend that you look them up a lot if you have the slightest inkling of trying one. These are the pages on LASIK and LASEK that I found, and a good page on whether you should consider LASIK.
The decision
I had pretty much decided to get it done before I went to the opticians. It was more a 'how' than a 'whether'. The main choice was what type, and whether to also get the "Wavefront" component as well. This maps the eye, and that map is used to create a customised laser treatment rather than standard prescription.
I was offered the lasik with wavefront because I have a moderate to bad astigmatism, and it is supposed to give better results for that. I liked the idea of it being customised to me, so I went for it (although it added 50% to the price).
By law, the opticians have to tell you all the bad things that can happen, but the problem was, I started laughing. This gave the poor girl the giggles, and neither of us could keep a straight face whilst she was talking about potential blindness and constantly weeping eyes.
I was only sacrificing my bad eye anyway, so it really didn't put me off.
The Op
This is the bit people ask about. It was pretty easy, although my knuckles were white gripping the arms of the chair until it was over.
You are sat down in a chair of the sort you might get in a dentists. You are lent back and a nurse puts quite a few anesthetic drops into your eye. Then a little clear plastic clamp is used to keep your eye open, and a tissue-paper like patch over the other eye.
I was very glad of the clamp, as you can then blink, and you feel like you have blinked, without disrupting anything.
The chair is then swung under a large machine, and you look up at this: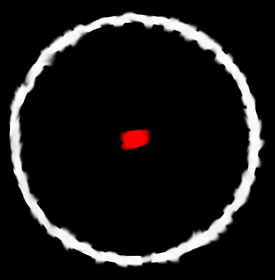 It's a very bright light, surrounding a red dot (clearer at first). Your instructions are to "keep looking at the red dot". I did this, my whole body was frozen (muscles tensed) just concentrating on watching this red dot.
The surgeon then peels back the surface of the eye, and folds it over to one side, and the laser fires. It sounds like a loud click, like a large electric spark, but rapid fire for about 30 seconds.

The only scary bit was the last few seconds of the laser firing, and the red dot had been easy to see (if slightly blurry), but then I started seeing the laser 'hits', kind of like the Operation Wolf wolf game when I was a kid.
Then the red dot turned into a large orange blur, and all I could think was "they are going too far, my eye is about to burst!"
Then it was over, the flap was put back, a contact lens placed over my eye, and I stood up and went into the waiting room.
Aftermath
LASEK has significantly more short-term side effects than LASIK, not least of which is wearing a contact lens for 4 days – I hate contact lenses at the best of times! I really couldn't use a computer or watch television for those 4 days, and even going to the super market gave me a massive headache. I also wasn't supposed to rub it for a month, even wearing a patch when sleeping for the first week to prevent unconscious rubbings. I would not get this done on both eyes at once, I'd be out of (work) action for a month.
However, after about 10 days, my vision had significantly improved, now better than my (formerly better) right eye. There was a short period where I had a slight 'haze', which I only noticed because in bright lighting I would see a snowflake shaped crystal negative when I blinked. (I assume it was the negative image of my iris.)
I won't know the final outcome until the 3 month mark (May 10th), but it seems to be just under 20/20, so I now only need glasses for computer work.
Persuading your brain…
A slight problem with improving your weak eye is that your brain takes a while to get used to it. Having been the weak eye for at least 15 years, my left eye hasn't had much use. It simply doesn't focus as quickly as the right. My brain also doesn't accept or interpret information as easily from the left eye, for example I won't necessarily recognise people even though I can see them clearly. I can see a face, but without help from the right eye, don't interpret the bits of a face as a whole.
I'm glad I did it. My only concern at the moment is that the vision in my 'new' eye may not be corrected up to the same point as my old eye. At that point I'd have an 'out and about' eye (new) and 'work' eye (old), so it wouldn't be the end of the world.
Eye performance
Left
Right
Before, with Glasses
0
0
Before, without Glasses
-1.75
After, with Glasses
0
0
After, without Glasses
-1
-1.75
Update – Four month stage
The operation is a distant memory now, and I've almost gotten used to the new sight. My 'new' eye now has a prescription of just under -1, which is roughly 20/20 vision, and is correctable to 0 with glasses.
What that translates to is that I only need glasses for computer work now; television, driving and most importantly walking around and recognising people are now possible without glasses.
Now that both eyes are equal with glasses, my 'new' eye is gradually becoming the primary eye, overcoming it's lazy ways.
The question I would have for me now is: Are there any side effects?
There are two things noticeable when comparing to my unchanged eye:
Sometimes it can dry up a bit, in dry conditions or long stretches in front of a screen. I notice because the vision degrades a bit and it's not very comfortable.
Night vision: I wouldn't say it was worse, but it doesn't change as quickly. Walking into a dark room, it's noticeable that suddenly my unchanged eye takes over, and I can see very little with the new one (although what I can see is clearer through that eye).
---
Tags