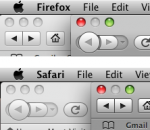 John Gruber recently expounded on the problems with click through, which put simply: is when you click a control on a window / application that's in the background, it works. This is something that 'got me' when I started using Macs (that generally don't allow click through), as it is the opposite of Windows, which generally does. But there is a strange contradiction to this philosophy in both OSs: scrolling with the mouse-wheel.
Windows IE supports click-through such that if you happen to click on a link in a background window, it will follow that link.
I fall for this a lot, especially with a large monitor and multiple windows side by side or overlapping. And yet, why doesn't the mouse wheel scroll for a background window on Windows? And on the Mac, where you have to click on a background application to activate it, why does mouse-wheel scrolling work?
Now, I do very much prefer the Mac way of allowing the scrolling of background windows by just moving the mouse over them and scrolling. In windows, you can allow this with an add-on: Katmouse (as recommended by Steve Gibson).
Is it inconsistent to generally disallow interactions with background applications, but allow scrolling? John Concludes:
in most cases, buttons are not good candidates for click-through. But draggable objects, like file and folder icons in the Finder (and similar apps, such as FTP programs), are.
I would add scrolling to that list, and continue using something to enable it on Windows as well.