Layouts are becoming an issue again. The (browser) landscape is changing, as are the fashion in layouts, but not really in unison. Before I continue, I should state that my perspective is not one of a visual designer's, so my decisions tend to be weighted towards usability & accessibility.
EM based layouts becoming more popular?
Recently Dan Cederholm released his new layout 'gridlasticness', an EM based layout that expands with your font-size choice.
I've looked at accessible layouts before, and bemoaned the fact that elastic layouts are mis-named. My main point was that font-based layouts will cause issues for people with visual impairments. When usability testing with people at RNIB centers, a fairly standard setup was an 800 or 1024 width screen, and large fonts.
That means lots of horizontal scrolling. In usability testing I've seen people get really frustrated with horizontal scrolling. Or when they don't notice the scrolling, frustrated with trying to do things that should be easy, and are easy if you can see the right side of the screen!
This part of Dan's post worries me:
Understand that when building an already-wide layout, it'll get really wide, really fast. That's OK. Wide is the new drop shadow.
If you're someone that often needs to adjust your font-size, you'd be encouraged to tick the "ignore site's font sizes" setting in IE (or use larger sizing in your prefered browser), and you would immediately get substantial horizontal scrolling: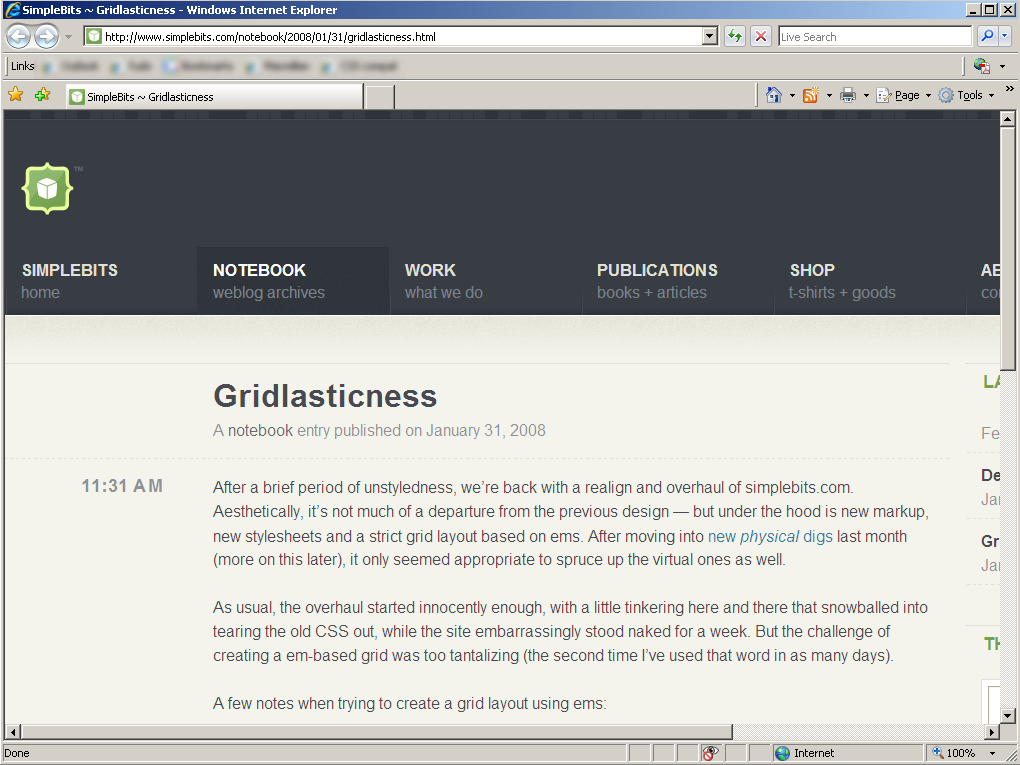 I'm not singling out Dan here, font-based layouts are popping up in quite a few places, such as the new Odeon site. He just happened to draw my attention to it and mention the fashion aspect.
Now, I can understand giving a greater weight towards design aspects, and maintaining the grid (although I wouldn't do the same). However, I find the timing curious, as these changes seem likely to be obsolete soon.
Browser zooming coming of age
Firefox 3 has a full zoom (rather than text-zoom), and you get pretty much the same effect as the EM based layout. Except that the browser zoom is often better, as (unless it's a font-based layout), it can try and fit the page to the viewport.
In a very little testing, Opera's version still seems more effective with the fit-to-width option enabled, and of course IE7's trails behind with it's linear-only zoom. (Side prediction: I suspect that IE8's zoom will be better, but not when using IE7's rendering.)
The bottom line is, that when these browsers are the mainstream, the differences between pixel and font-sizing becomes academic. Of course, I still find sizing layouts based on the viewport more robust over font or pixels methods, but when browser zooming is standard it will be more difficult to argue.
Ironically Simplebits old design using percentages works much better with zooming that fits-to width. What's the big deal with font-based layouts, what have I missed?