Category Archives: Real life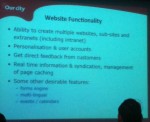 I attended the Roundtable Discussion about Bristol City Council's Future Web Platform, an interesting insight into how local authorities think about their web presence. Something about the presentations & process jarred with me, and it took a little while to work out what the problem was:
the assumptions
. I've dissected some of them and proposed new ones.